Building a Pollinator Garden
What is a Pollinator Garden?
A pollinator garden is a specifically designed garden containing nectar and pollen producing plants. These plants attract pollinating insects known as pollinators.
Why are Pollinators important?
Pollinators, such as bees, pollinate much of the food we eat. Without their hard work flowers, fruits, coffee and even chocolate would not be possible. And it?s not just bees that pollinate these important things. Butterflies, birds, beetles, bats, wasps and even flies are important in the pollination process and our ecosystem.
Over the years there has been an alarming decline in pollinator populations. We often take for granted the importance of pollinators by using pesticides excessively and by altering landscapes to fit human needs. Pollinators reproduce 90% of the world?s flowering plants and are imperative to creating and maintaining the habitats and ecosystems that many animals, including humans, rely upon for food and shelter.
?
Shrubs for Pollinators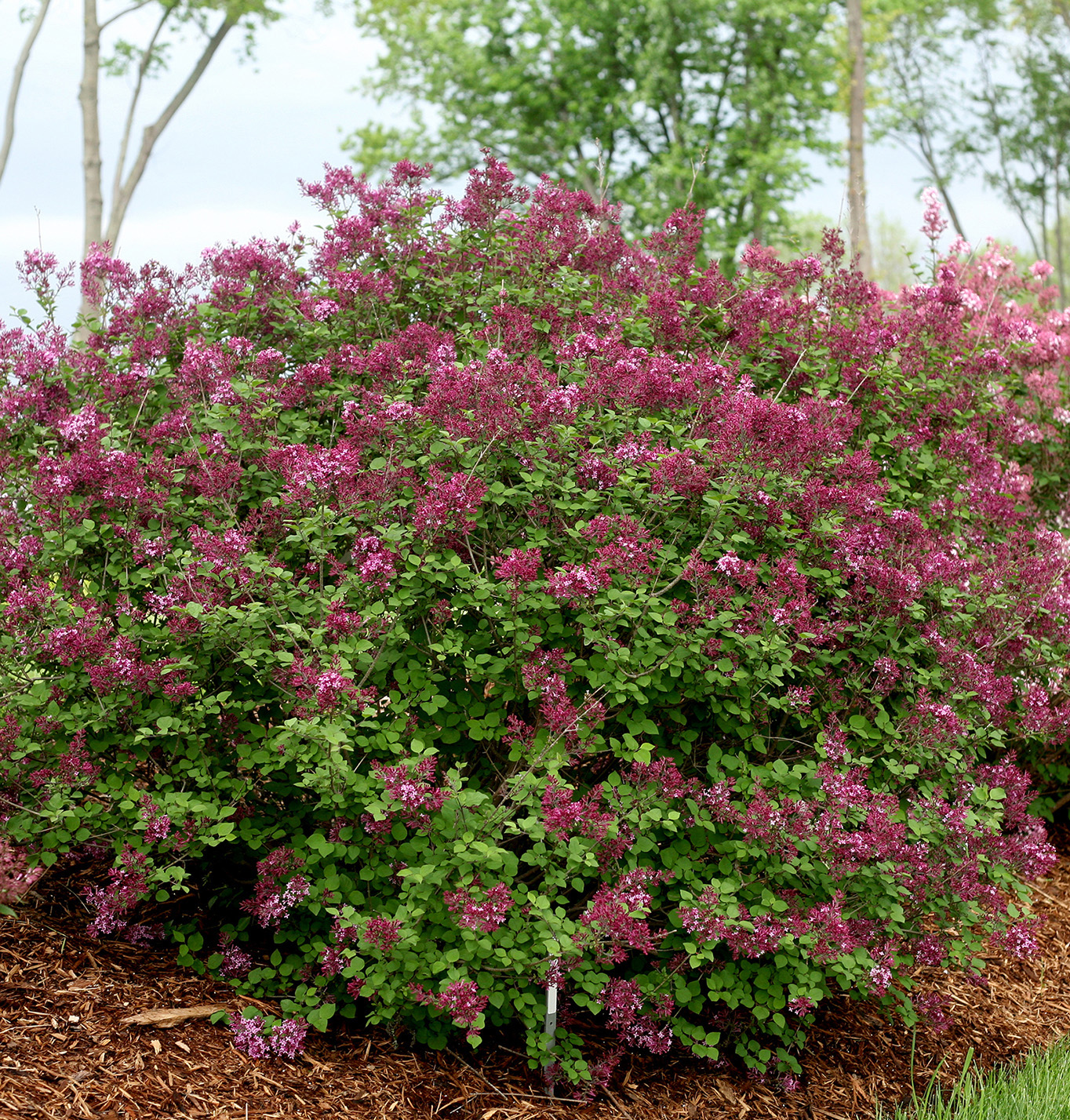 Bloomerang??Dark Purple?Syringa?
Enjoy months of blooms with this re-blooming Lilac! Not only does this variety bloom in spring, it continues to produce large dark purple buds again in mid to late summer, continuing through frost. You?ll be sure to notice pollinators such as butterflies and bees throughout the summer months. This lilac is a naturally growing rounded shrub that is noted for its exceptional disease resistance. Like other lilacs, it is sun-loving and deer resistant, so it makes an easy care choice for years of beauty.
Mature size: 48-72 Inches??????? Zone: 3-7
?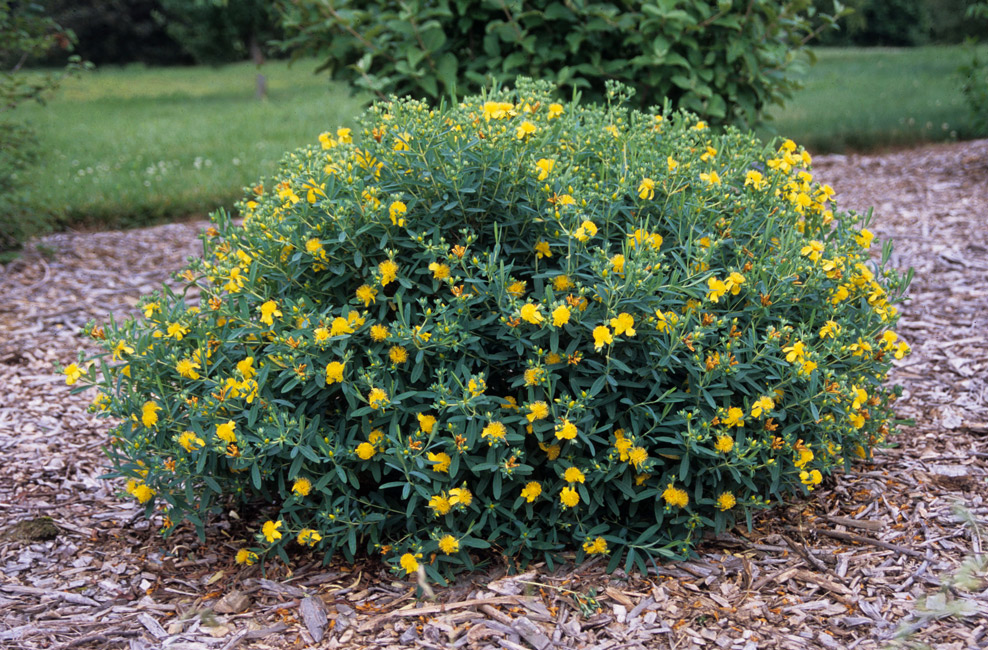 Blues Festival??Hypericum?
Also known as St. John?s-wort, this long-blooming native shrub is covered in bright yellow sunburst-like flowers and contains attractive blue-green leaves. This deer-resistant little shrub is very low-maintenance and works well in edging beds and walkways, or as ground cover. St. John?s-wort is also very popular with the bees! The cheery yellow blooms and the happy, buzzing bees seem made for each other!
Mature Size: 24-36 Inches?????? Zone: 4-7
?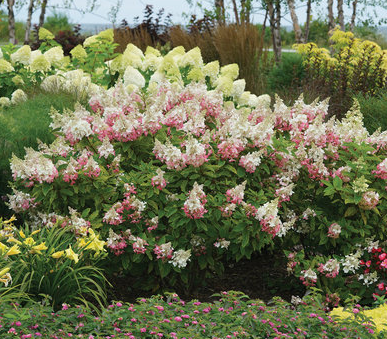 Pinky Winky??Panicle Hydrangea?
Hydrangeas are not the first plant most folks think of when it comes to pollinator plants, but the fact is the lacecap varieties like Pinky Winky, which display their nectar and pollen rich fertile florets prominently, bring in the buzz in a big way. Plus, Pinky Winky is an easy-care panicle hydrangea, which are practically foolproof and can be easily grown in both hot and cold climates. Though the mophead varieties ? the ones that form the big, full, fluffy flower heads - are usually considered showier, looking for lacecap varieties ensures you?re doing something good for pollinators as well as beautifying your landscape.
Mature Size: 72-96 Inches?????? Zone: 3-8
?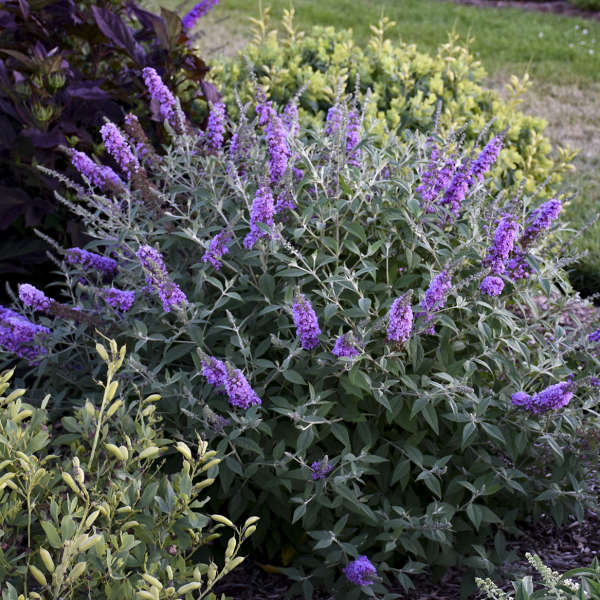 ?Lavender Cupcake??Buddleia?
The butterfly bush may just be the most popular shrub for pollinators. While these colorful, long-blooming shrubs sometimes get a bad rap because they only feed butterflies and not the caterpillar, or larval, stage of a butterfly?s life, their appeal to humans and hummingbirds can?t be denied.?This sweet Buddleia will charm you with its long light lavender purple flower panicles. This rounded compact shrub will bloom as early as midsummer, and secondary blooms will extend into early fall. This shrub will need to be fully covered for winter and planted in a space that is not directly exposed to winter winds and is somewhat sheltered.
Mature Size: 36-48 Inches?????? Zone: 5-9
?
Perennials for Pollinators
?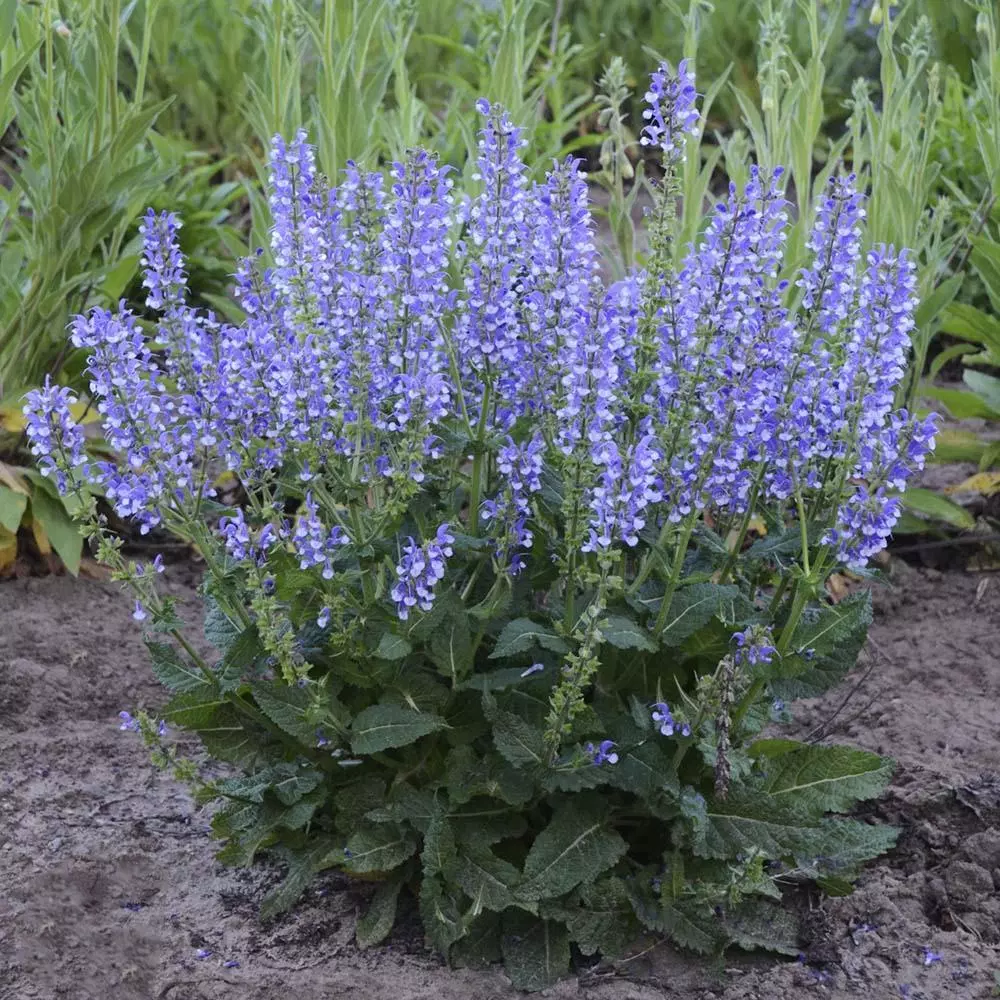 Salvia Colour Spires? ?Azure Snow?
Bees are highly attracted to all varieties of Salvia. This colourful perennial produces deep violet blue and white bicolour flower spikes atop the neatly mounded, aromatic foliage. Expect to hear the constant humm of bees from late spring to early summer while this perennial is in bloom! Salvia also attracts hummingbirds and butterflies and are completely deer resistant because of the fragrant foliage.
Mature Size: 18-20 Inches?????? Zone: 3-8
?
?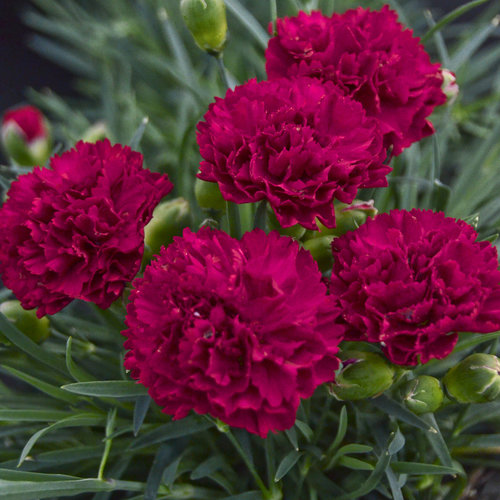 Dianthus (Sweet Williams or Pinks) Fruit Punch? ?Cranberry Cocktail?
This colourful perennial produces carnation-like hot magenta pink flowers. Its foliage hugs the ground in a low mound that is perfect for sunny borders and pathways. Bees that forage near the ground find this particularly appetising. This sweetly fragrant flower also attracts butterflies. While completely deer resistant, rabbits will find this perennial tasty, so use a repellent if they become an issue in your garden. If you trim the spent flower stalks off when they are all done blooming, you?ll likely see another round of flowers in early fall.
Mature Size: 8-10 Inches???????? Zone: 4-9
?

Baptisia ? ?Grape Taffy? (False Idigo)
This compact Baptisia is an upright, densely branched perennial that produces beautiful reddish-purple flowers on sturdy spikes in late spring to early summer. Attracting an array of butterflies and hummingbirds, Baptisia is rabbit resistant and are rarely bothered by deer. Bees are also attracted to this unique perennial.
Mature size: 24-36 Inches??????? Zone: 4-9
?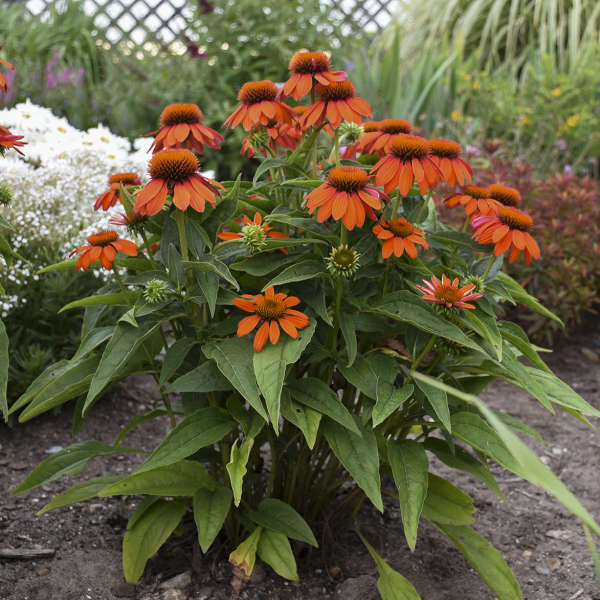 Echinacea ? Sombrero? ?Adobe Orange?
Coneflowers are known for their long blooming season and are a must have in sunny perennial gardens! You?ll see all kinds of bees, butterflies and songbirds enjoying this perennial?s blossoms. With large bright orange petals, the copper centres provide the perfect landing pads for pollinators coming for a snack or just for a rest. Deer typically leave coneflowers alone but they are a favorite of rabbits, so use a repellent if they become an issue in your garden. Cone flowers are perfect for small gardens, containers, or border plants. Deadhead spent flowers to encourage further blooms.
Mature Size: 12-24 Inches?????? Zone: 4-9
?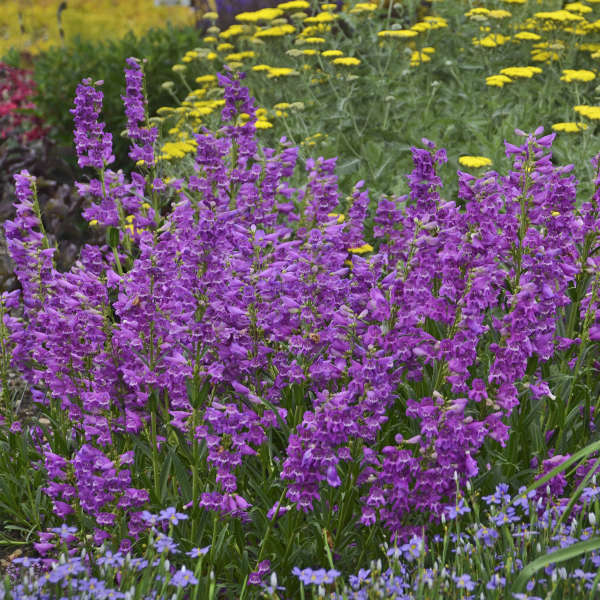 Penstemon ? ?Prairie Dusk?
Penstemon forms a low clump of green foliage with upright spikes and rose-purple, trumpet shaped flowers. Bees and hummingbirds are major pollinators for this plant. Deep inside their tubular flowers lies the pollen bees need and sweet nectar for the hummers. Bees collect the pollen on their bodies. Hummingbirds collect pollen on their heads when they reach in for a drink of nectar, then transfer it to the next flower they visit. Drought tolerant and easy to grow, this perennial makes a tremendous color statement when planted in groups.
Mature Size: 24-30 Inches?????? Zone: 3-8
?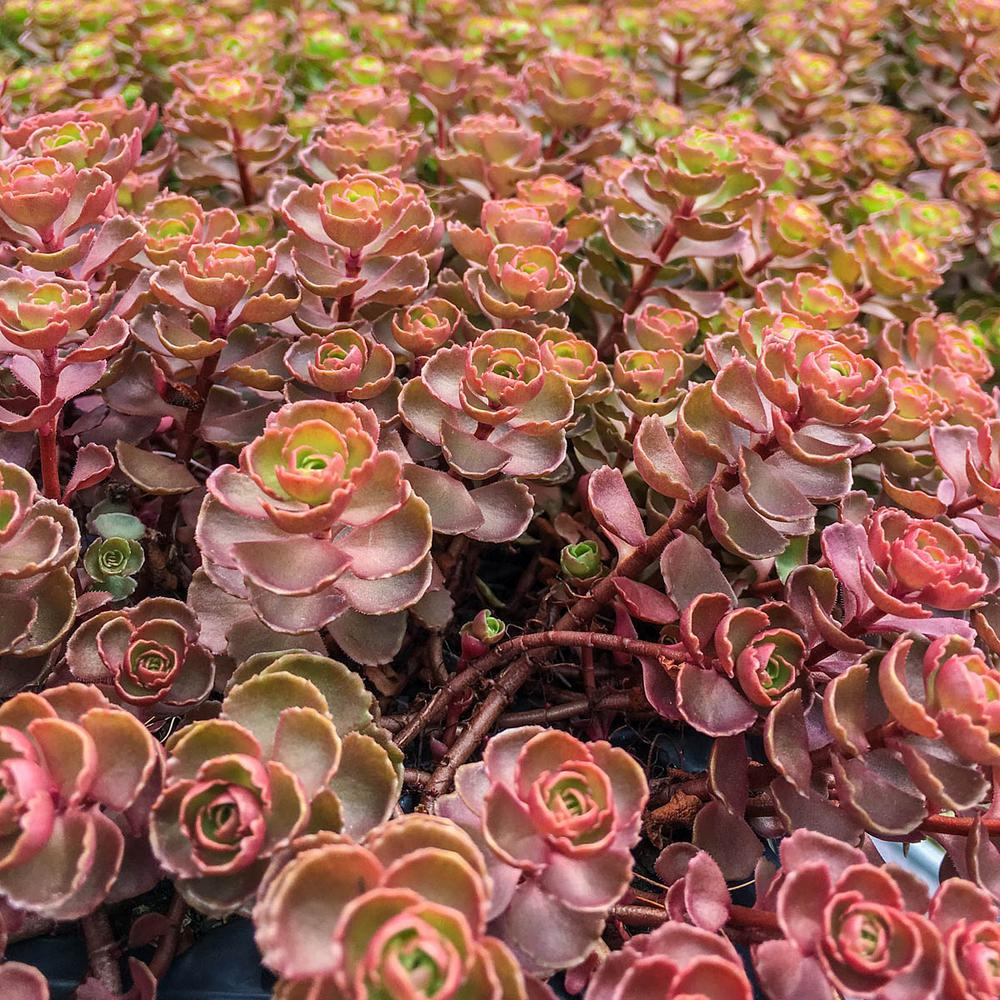 Sedum (Stonecrop) ? ?Dragon?s Blood?
Late summer to fall flowering stonecrops are amazing perennials for drawing in all kinds of bees and butterflies before the growing season ends. They provide a late season food source after many other plants in the garden have finished blooming. Dragon?s Blood is a low mounding perennial with fleshy, rounded, bright green leaves adorned with burgundy on the edges. It deepens to bronze-red in summer before changing to brilliant red in fall. Plant in your rock garden or use them to edge a sunny pathway or border. Deer and rabbit resistant!
Mature Size: 4-6 Inches Tall / 12-18 Inches Wide ?????? Zone: 3-9
?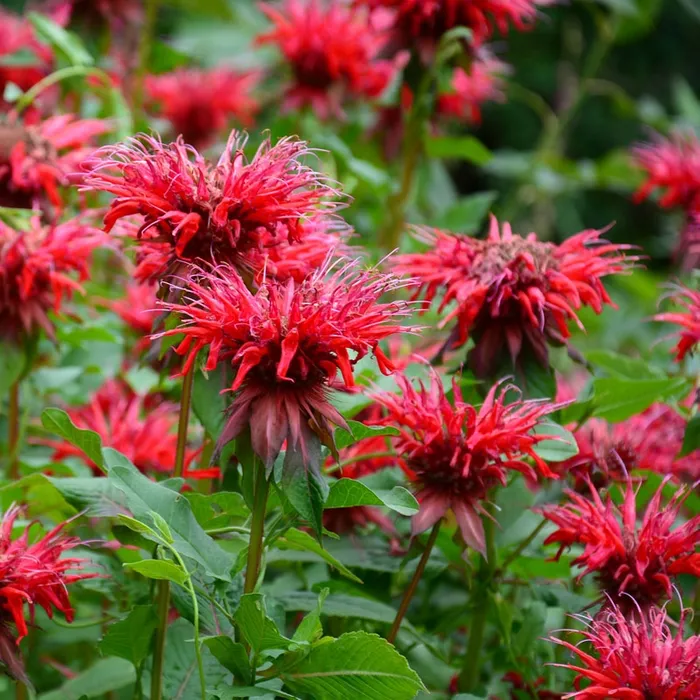 Monarda (Bee Balm) ? ?Fireball?
Monarda is a pollinator favorite in the garden. Nectar-rich flowers are large and are pollinated by ruby-throated hummingbirds, butterflies, hummingbird moths, and bees. Dense ball-shaped flowers in red really punch some color into the border or patio container. The abundant flowers of Monarda Fireball are held close atop their dense foliage and have fringy petals that almost seem to burst from the top of the bloom like a miniature firework display. Although this perennial has a long blooming season, it requires to be constantly moist in order to be beneficial for pollinators.
Mature Size: 12-24 Inches?????? Zone: 4-9
?
Annuals for Pollinators
?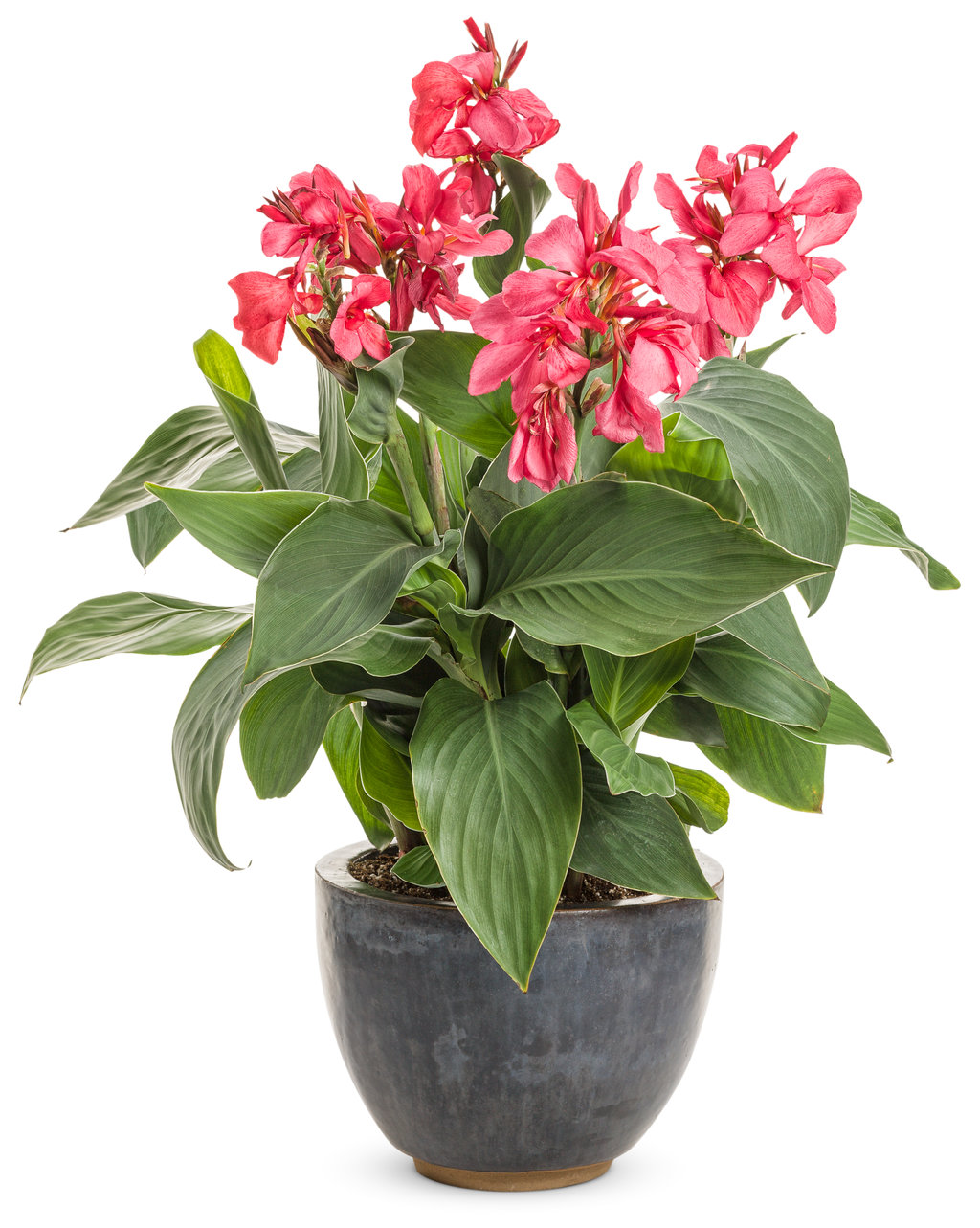 Canna Lily ? Toucan? Rose
If you love the look of tropical plants but need one that is as easy to grow as a petunia, try a Toucan? Cannas. They grow quickly to make bold thrillers in your large containers and thrive in the landscape too. Their more manageable size makes them more proportional and easier to pair with other plants in combination containers. This Canna Lily will bloom all summer, it is extremely heat tolerant - loving both heat and humidity. Toucan? Rose bears tropical pink-red flowers that attract pollinators atop its lush green foliage. It appeals to butterflies.
Height: 18-24 Inches?? Spread: 18-24 Inches
?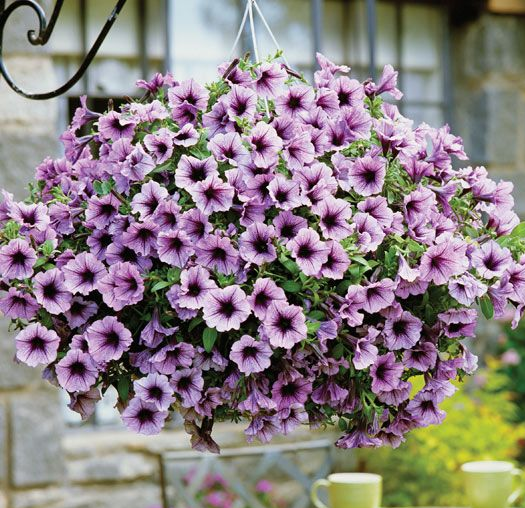 Petunia ? Supertunia ?Bordeaux?
Soft plummy-pink blossoms with a deep, rich plum centre is extremely eye-catching in combination containers paired with other dramatic colors like black and chartreuse. Supertunia petunias are vigorous with slightly mounded habits that function as both fillers and spillers in containers.? They are also excellent landscape plants, best suited to be placed near the front of beds. Expect outstanding all-season performance without having to remove the spent flowers, even in hot, humid climates. Supertunias attract butterflies and hummingbirds
Height: 6-12 Inches???? Spread: 18-24 Inches? Trail: Up to 30 Inches
?

Salvia ? Rockin?? Playin? the Blues?
Bright violet blue flowers emerge from purple calyxes which hold their color after the flowers are spent, giving the illusion of being in bloom over a longer period. New flower spikes continue to emerge all season long above the bushy, bright green foliage, even in hot, humid conditions. This plant is the perfect thriller for large containers and a fantastic vertical element for landscapes. Pollinators will delight in its flowers from spring through fall. Attracts bees, butterflies and hummingbirds.
Height: 24-48 Inches?? Spread: 24-36 Inches?
?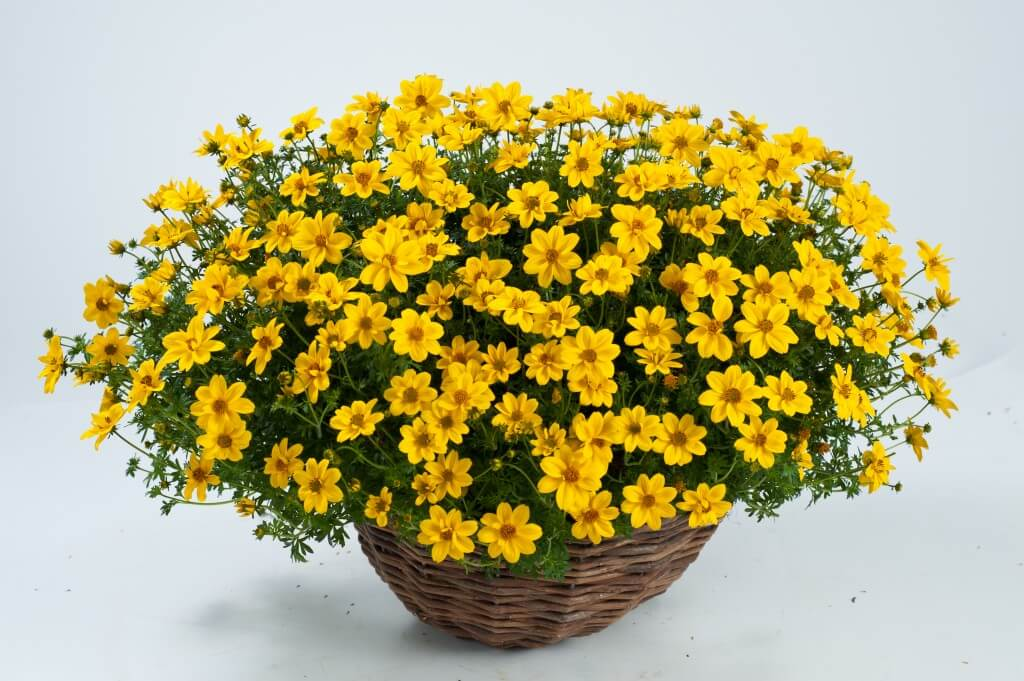 Bidens ? ?Yellow Sunshine?
If your porch, patio or window boxes are located in full blazing sun, this is the plant for you. This vigorous annual thrives in heat and doesn?t mind if the soil dries out a bit now and then. Its golden yellow flowers keep right on coming from spring into fall atop the bushy, green foliage. Try pairing it with the Evita? Lantana which thrive in the same conditions and attracts a multitude of pollinators such as bees.
Height: 12-24 Inches?? Spread: 14-16 Inches
?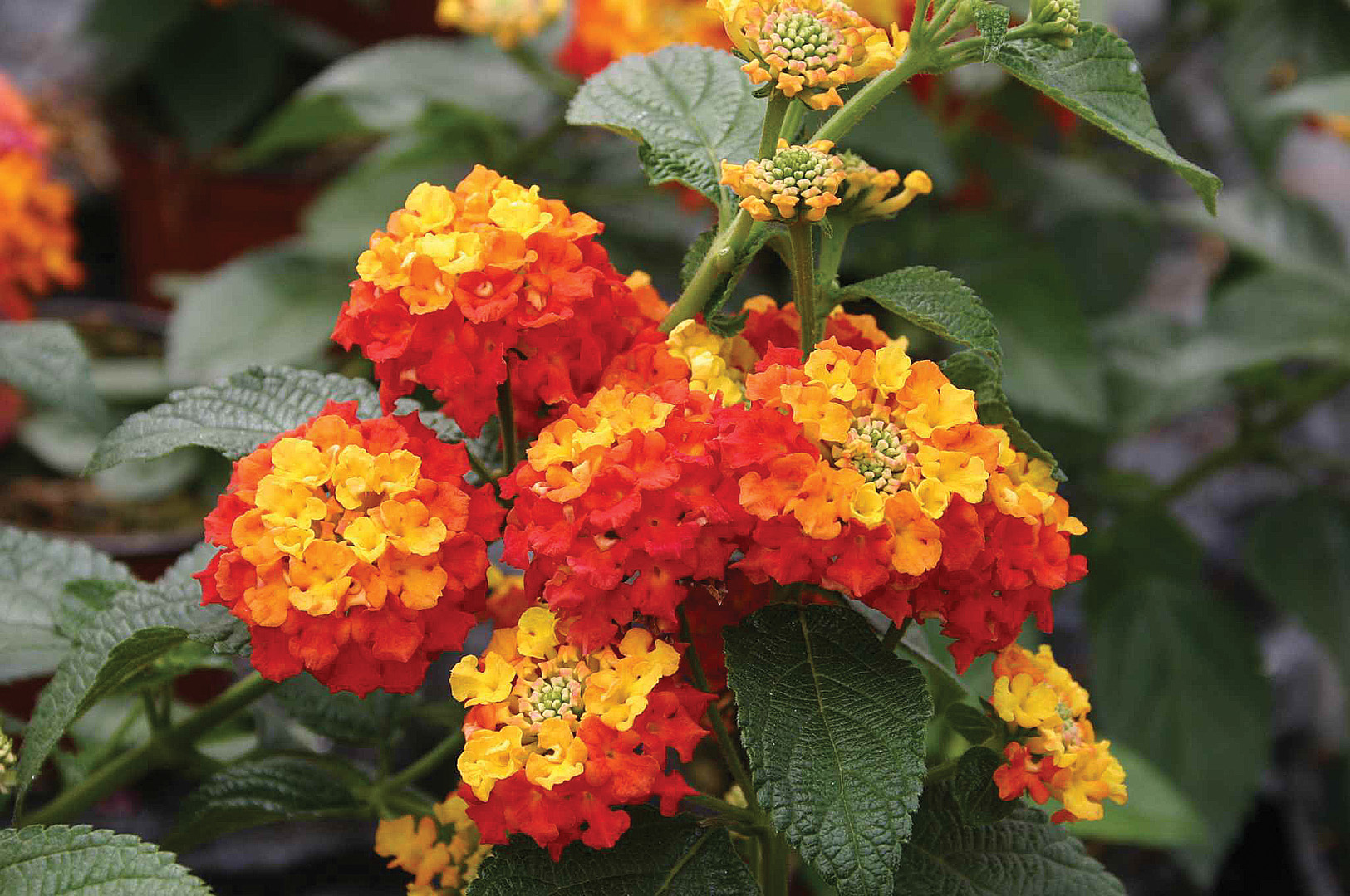 Lantana ? Evita? Red
A compact bushy variety perfect for containers and landscapes. Perfect for either grow on its own or paired with other sun loving plants. Clusters of fragrant, red, orange and yellow bicolor blooms attract pollinators all season. Like all Lantanas, Evita Red is heat and drought tolerant, which helps to keep the plants blooming from spring through fall.? Attracts birds, butterflies and bees.? ??
Height: 10-12 Inches?? Spread: 10-12 Inches
?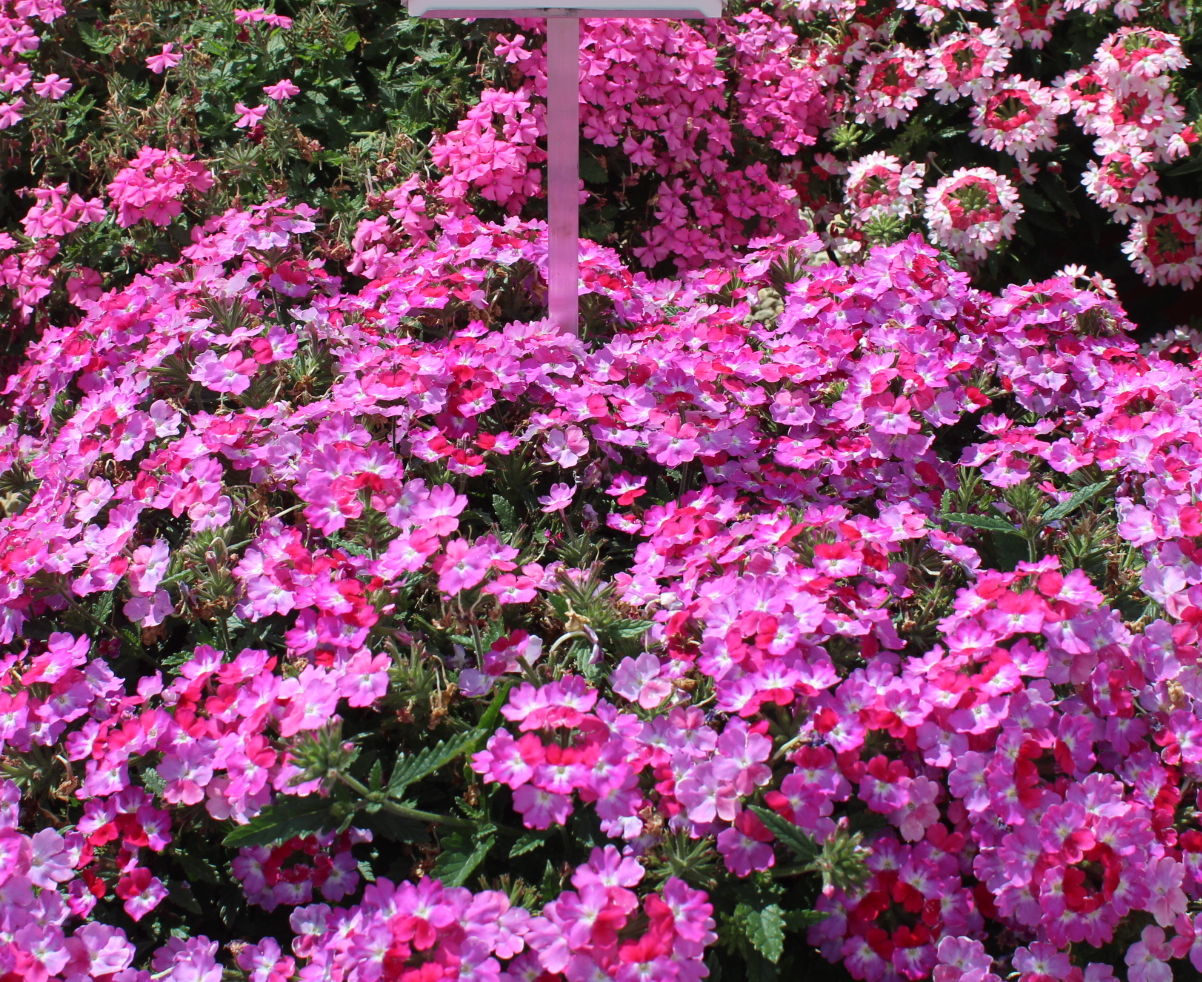 Verbena ? Hurricane Violet-Red
A luxurious cascade of soft, textured foliage complimented by round clusters of bright flowers adds a splash of color to sunny, hot locations. Looks great in hanging baskets, spilling from mixed containers, or cascading over a wall. This annual with its tiny clusters of blooms attracts a great number and variety of insects. Hoverflies, honey bees and bumblebees, solitary bees, butterflies and even dragonflies, enjoy its nectar-rich blooms.
Height: 6-12 Inches???? Spread: 18-30 Inches? Trail: Up to 24 Inches
?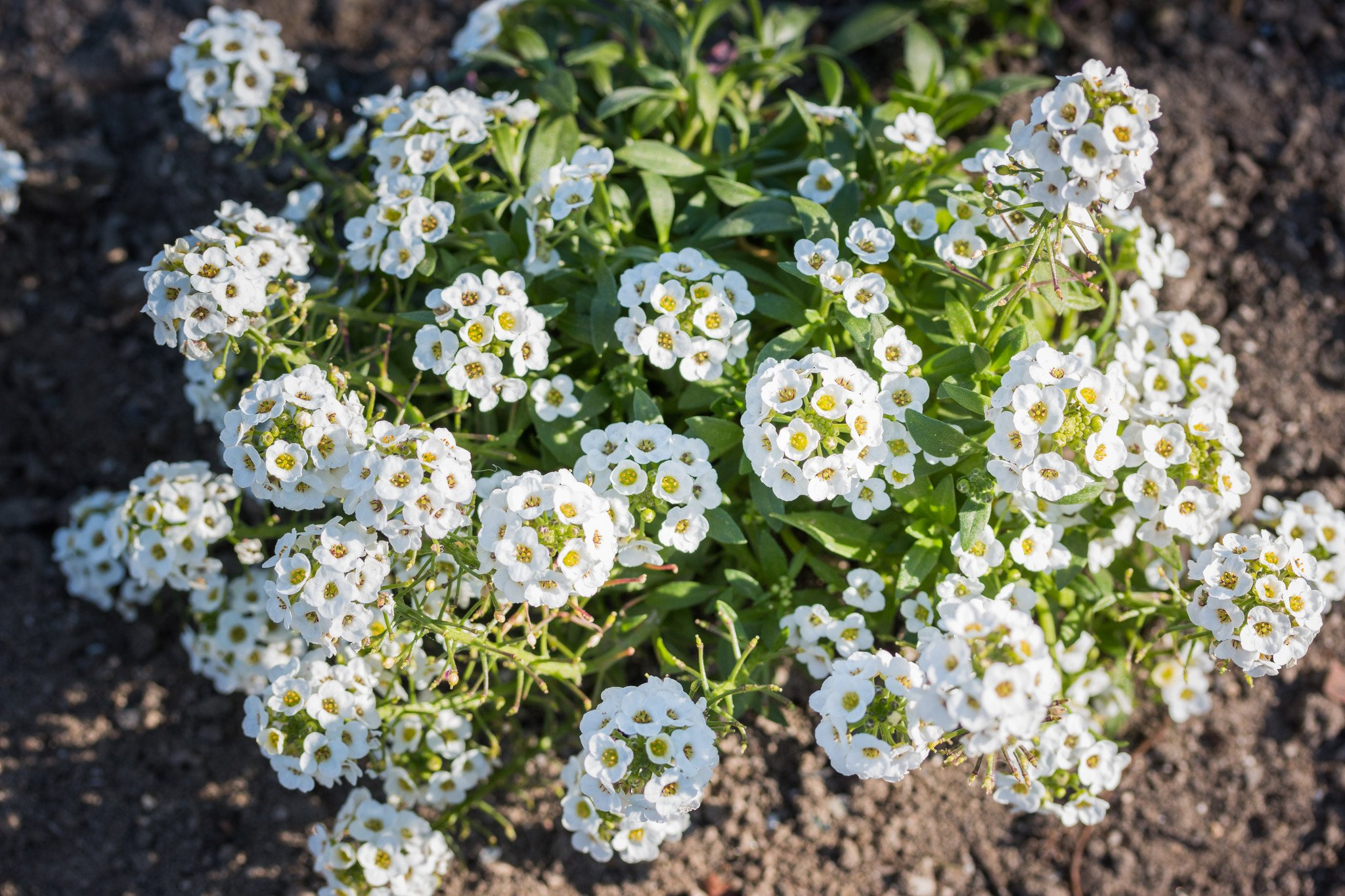 Alyssum ? Wonderland White
The dainty flowers of sweet alyssum emits a honey-like fragrance that bees find attractive. The rich nectar in the flowers draws legions of beneficial insects to the garden, making it a favorite of organic gardeners. Shallow blooms are just the right size for nourishing tiny parasitic wasps, which will then deposit their eggs on the caterpillar pests upon which they feed. This annual makes excellent ground cover and thrives in container gardens.
Height: 4-8 Inches?????? Spread: 24-36 Inches? Trail: Up to 36 Inches